This morning I hosted a discussion on twitter about barriers to reading, and how we can overcome these in the classroom.
The responses from teachers about issues around reading were fast and furious, and can be roughly categorised into these groups:
Students are often reluctant to read for pleasure – life is busy, and reading often takes a back seat;
Students don't always understand what they are reading and can lack the metacognitive skills necessary to overcome this lack of comprehension;
Key Stage 3 teachers are not always aware of how reading is taught in Key Stage 2, and we need to bridge this gap.
Students are often reluctant to read for pleasure
Life is busy, for students as well as for teachers. The pressures and draw of social media (and the time lost to watching videos on tiktok) often means that reading for pleasure takes a back seat. And the less students read independently, the more of a chore it can become. Like many of you, I have spent independent reading lessons glaring at students over the top of my own book, quietly pointing out to them that their text is upside-down, or finding a phone hidden amongst the pages they are supposed to be enjoying.
So how do we tackle this issue?
We need to change the culture – and that takes a considerable amount of time and investment.
Young people need to see adults in their lives reading frequently, and enjoying what they are reading. This might mean seeing teachers carrying books; overhearing snippets of conversations about reading whilst teachers sip coffee on break duty; hearing teachers digress in a lesson to relate the topic to something they read recently; and seeing teachers reading voraciously during library or independent reading lessons. Adding the book I'm currently reading to my email signature is a simple step that has prompted a surprising number of conversations – when parents come in to meet with me and their child at school, they occasionally start by commenting on my choice of reading material. Sometimes it might not seem like it, but most students like to talk to teachers and hear about their interests – and we can take advantage of that to engage them in conversations about reading. If my answer to the question "what did you do at the weekend, miss?" is "reading", I generally focus on recounting a segment of the narrative (without spoilers, of course) because one thing that students love to listen to is stories.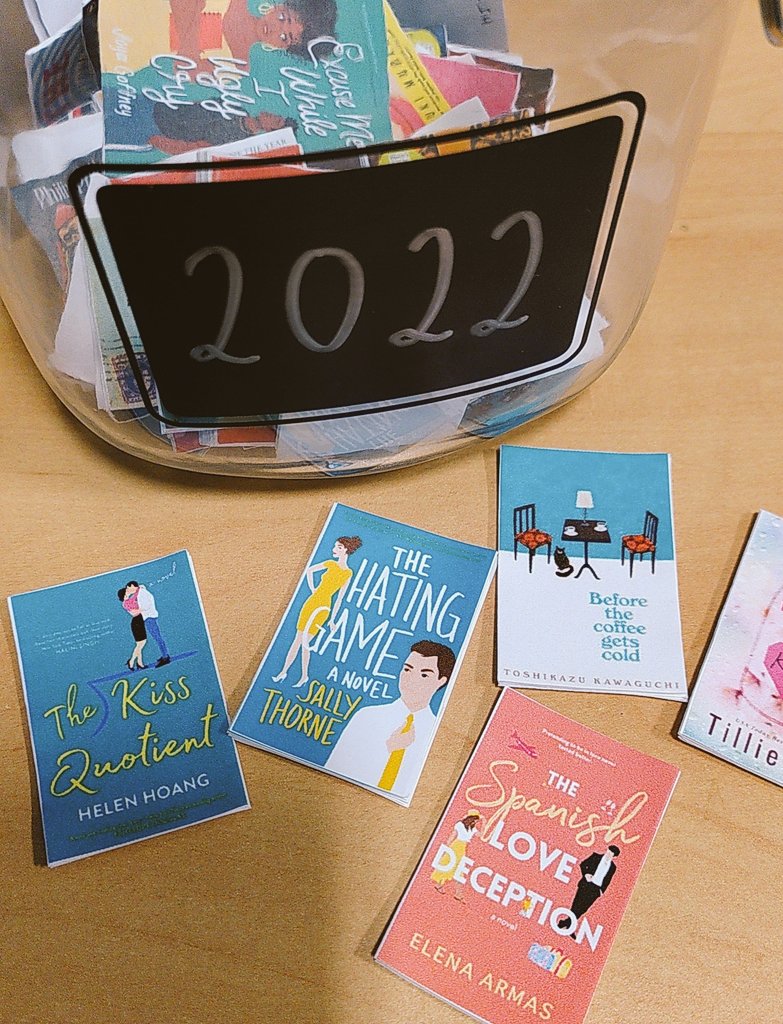 Another strategy that takes time – but is definitely worth it – is making reading and books continually present in our students' lives. Frequently updating reading displays around the school is a great start, alongside incorporating reading time and visits to the school library (if you are lucky enough to have one) during the school day. As I am without a classroom this year, I carry round a portable display in a jar, which contains the covers of books I would otherwise be sticking on my walls. The bizarre novelty of this solution to my problem has prompted a lot of discussion with my classes – my students are keen for me to put "their book" in the jar. Of course, I guide these conversations to prompt students to justify their choice (rather than focussing on the jar itself!).
Students don't always understand what they are reading
There are so many ways to tackle this problem – and this blog post is not the place for an in-depth exploration of these approaches. I've discussed some potential strategies elsewhere, and this will be the main focus of my upcoming reading conference. Many schools create mentor programmes, where students who find reading challenging are paired with older students or staff to read once or twice a week. There are also lots of effective intervention programmes which schools can run. In my experience, the main consideration is to create a carefully-planned programme which is well-funded, led by trained staff or students, and continually monitored and evaluated. If a robust structure is in place to ensure this happens, then such interventions can be very effective.
Key Stage 3 teachers are not always aware of how reading is taught in Key Stage 2
Earlier in the week, I was privileged to attend a CPD session run by Education Durham, in which I had the opportunity to talk to Key Stage 2 teachers about how they teach reading. They spoke of a vibrant culture of reading activities, in which students engage with narrative and character construction in a meaningful way. It was also useful for me to hear how many primary teachers face the same challenges as secondary teachers – how do we support students to read fluently and for comprehension? How do we ensure students have the necessary background knowledge to tackle challenging texts? How do we approach non-fiction texts, which are often less driven by narrative? How do we tackle the complexities of reading poetry?
For me, what I took away from this session was the importance of oracy; we need to talk about character and narrative, the strategies we are using to make sense of texts, and what words mean in context. If students are being trained to understand texts through rich talk at primary level, then we need to maintain this as they make the transition to secondary.
At my school, we have a fabulous intervention teacher with a wealth of experience in teaching reading across the key stages. She has directed me towards this website, which is a great place to start if you are interested in understanding the reading knowledge your Year 7 students will arrive with in September.
What next?
I have already alluded to a reading conference I am organising later this year.
My aim is that this conference will form part of a wider conversation about how we can improve the teaching of reading in our schools. As an English teacher, I am obviously passionate about how to do this in my own classroom – but I also believe that a creating a rich culture of reading in a school should involve and impact on every department and aspect of school life.